The Puma - Stevedore application creates private channels for the distribution of the information to the personnel of the stevedoring company as well as the participants and stakeholders of the vessel cargo operations including marine agents, ship chief officers, truck drivers, etc. The users will download a free mobile application - Puma Messenger, register in the Puma platform and subscribe to the stevedoring companies' channel. This will convert mobile phones and tabs into a single device for real-time data exchange, process coordination amongst the participants, and GPS location tracking.

Vessel Booking & Stowage Plan
Marine agents will enter booking for the vessel (or barge) call and stowage plans to the stevedoring company channel.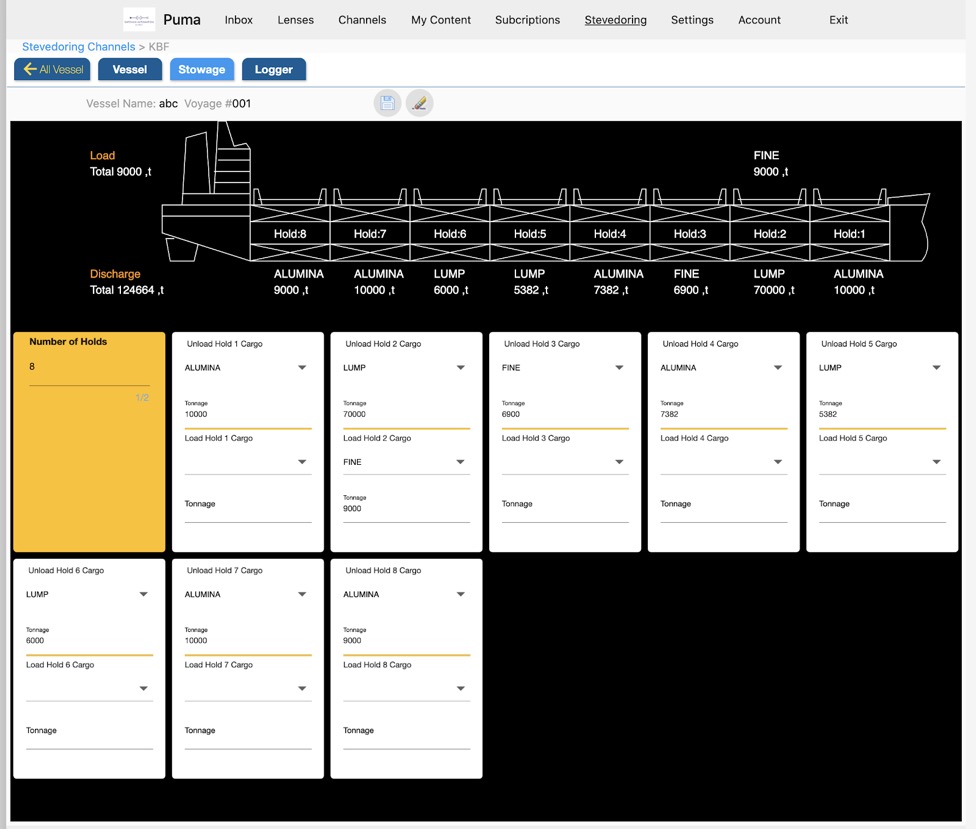 Logging Of Stevedoring Activities
Tallymen will enter an accurate operational chronological log which will reflect the current status of the vessel operation, equipment used, performance and volumes handled.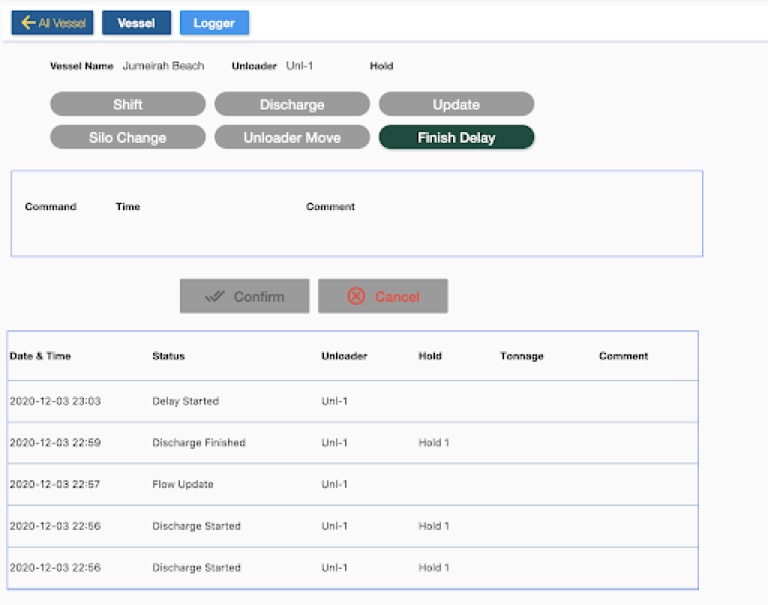 Integration with Unloader/Loader Control and SCADA Systems

Puma Stevedore will integrate with the unloader/loader control system, conveyor PLC and SCADA to obtain mass flow measurements in the automatic mode.
Real-Time Operational Notifications
Stevedoring company personnel, marine agents, cargo owners, and other channel subscribers will receive notification about the events such as commencing of the vessel cargo operation, completion of the hatch unloading, start and finish of the operational delay. Immediately after the notification is received, the mobile device will ring and the notification will be shown in the foreground.
Vessel Statement of Facts
A detailed chronological description of the activities of the vessel during the stay in a port will be available as an online form or Excel file.

Puma Platform Hosting
Option 1. SafChain secure cloud services
Option 2. On-premise port datacentre or third-party cloud services
Puma Messenger Compatibility
iPhone/IPad iOS 10+ Android Phone/Tab Android OS Web Browser Chrome (mobile & desktop), Safari (mobile & desktop), Edge (mobile & desktop), Firefox (desktop)
Copyright © 2020 SAFCHAIN AUTOMATION LLC, USA
All rights reserved.
SAFCHAIN is a trademark of SAFCHAIN AUTOMATION LLC. All trade names referenced are the service mark, trademark, or registered trademark of the respective manufacture